Dog Grooming & Bathing
At Dog Tired, we offer professional dog grooming and dog bathing services to keep your dog looking and feeling their best! Our groomers track your dog's styling requests to keep your dog's cuts consistent. We want to ensure your satisfaction every time! Proudly serving James Island, Johns Island, West Ashley, Charleston, SC & surrounding areas with premier dog grooming & bathing services.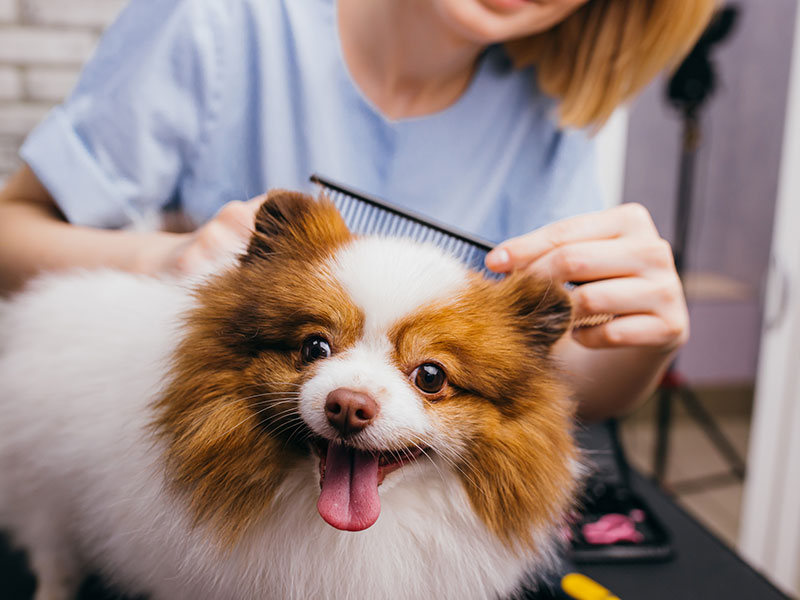 Benefits of Dog Grooming
There are many benefits of a well-groomed dog, including:
Prevent mats and tangles in your pet's hair.
Baths remove excess oils and odor-causing dirt for healthy skin.
Nail trims avoid overgrown nails and other painful conditions, prevents accidental injury to you, your pet, or your furniture, and gives us an opportunity to inspect their paws for swelling, cracked pads, or matted fur.
Regular ear cleaning removes wax, dirt build-up, deodorizes, and may prevent ear infections.
Tooth brushing reduces tarter and plaque buildup and provides fresh breath for extra clean kisses.
Dog Grooming Services
Our prices are based on breed, temperament, and condition of coat. Grooming with haircuts are available Monday-Friday by appointment only. Baths and additional services are available 7 days a week by appointment. Reservations are required.
Register OnlineView FAQ & Health/Vaccination Requirements
Full-Service Groom $55+
All Natural Shampoo, Nail Dremel, Ear Cleaning, Haircut and style of your choice with a personalized consultation with our grooming stylist.
Deluxe Bath $35+
All natural shampoos and conditioners will leave your pet smelling clean and feeling good in addition to ear cleaning, and nail trimming.
Express Bath $25+
Does your dog just need a bath? We have you covered! An express bath is great for dogs who need a bath to freshen up. Did you know dogs can have baths once a week? This is the perfect service for dogs in between deluxe or full-service grooms so they can continue to smell fresh.
Cranberry Facial $5
Leaves your dog's face kissable. Safe for puppies. Ingredients include plant-derived cleansers with aloe, vitamin E, and cranberry extract.
Tooth Brushing $10
Regular tooth brushing is recommended for dogs to prevent periodontal disease. It is important to maintain dental hygiene for a happier healthier long living pup!
Manicure/Pawdicure $18
Nails trimmed; we also provide nail grinding for smoother and shorter nails than the average nail trimmer.
Anal Gland Expression $15
Glands have some smelly fluid and occasionally need to be expressed, or emptied. Many dogs express them by themselves every time they poop — the sacs are around a dog's anus — but occasionally the sacs fill with fluid and your dog needs some help to release the fluid. Ever notice rotten fish smell?
Ear Cleaning $5
Cleaned, deodorized, and checked.
Foot Soak $5
If your dog is suffering from allergies and/or resulting yeast infections of the paw (e.g., candida), or has come into contact with poisonous and/or toxic substances, giving them a foot soak is very important to reduce discomfort, help treat the symptoms, remove harmful residue and stop your dog's need to lick and chew their paws. Toxins left on the paws can migrate into your pet's bloodstream. Over time it may increase their toxic load and may compromise their immune system.
Furmination (Deshedding Treatment) $15
Your pet's undercoat can become a dense mess of loose, dead hair – and the major source of shedding. Our furmination treatment removes undercoat hair quickly and easily. It's also great for promoting healthy skin and coat.