Meet Our Team
Gray Moore and her highly trained team are proudly leading the way towards a higher standard in the pet care industry. They continually strive to meet the rigorous standards set by leading organizations in the industry including The Dog Gurus, IBPSA, and the PACCC. All staff members undergo an extensive 16-week training course on dog body language provided by The Dog Gurus. In addition, all staff are or will become, certified in emergency care for dogs and cats.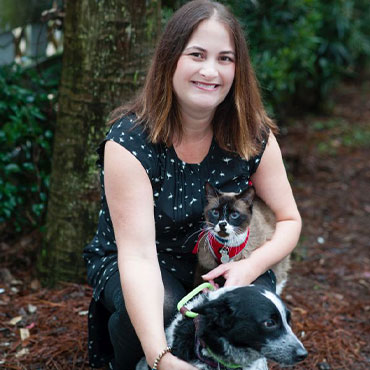 Gray Moore
President
Gray Moore is President and Founder of Dog Tired Pet Services and also one of the first Certified Professional Animal Care Managers (CPACM). She has lived in the Charleston SC area for over 14 years. Her entire life has revolved around animals. She has an extensive list of volunteer positions helping animals including President of the 4-H Club, volunteering at a zoo, caring for orphaned and injured wildlife, training thoroughbred horses, breeding and showing Jack Russell Terriers, and volunteering for animal shelters. She currently has a cattle dog mix, Tilly Munster, a snowshoe Siamese cat, Folly, and a fish tank full of angel fish.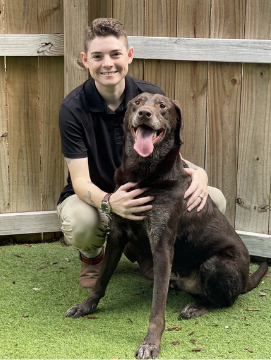 Jesse
Operations Manager
Jesse moved from Ohio to Charleston at a young age and grew up in Mount Pleasant. She has been working with dogs and cats for over ten years in the Veterinary Medical field as an Emergency Veterinary Technician as well as a General Practice Technician. She enjoys spending time with her two dogs Charlie and Guinness and her three cats Ellie, Opal, and Hurley. When she's not working, Jesse enjoys antiquing with her wife and enjoying the outdoors.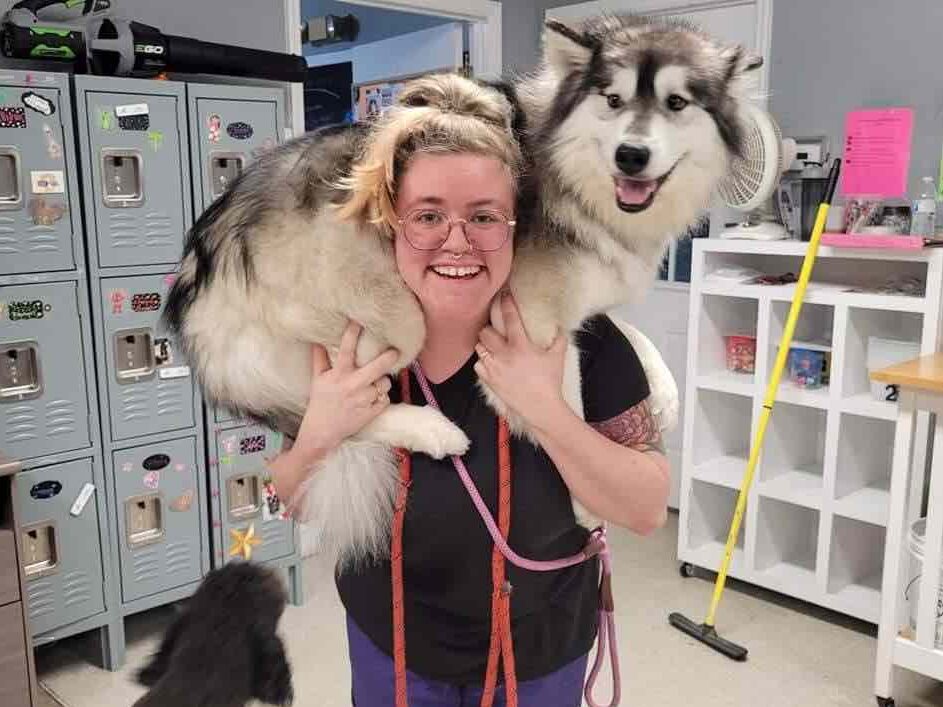 Allison
General Manager
Allison started her career with animals as a veterinary receptionist and eventually learned the boarding kennel is way more fun! She has a passion for all things pets and loves coming up with new treats and activities for them. She loves supporting and volunteering with Carolina Poodle Rescue in her spare time. When not working she enjoys embroidery and oddities, as well as spending time with her own dogs, Gojira and Mogwai.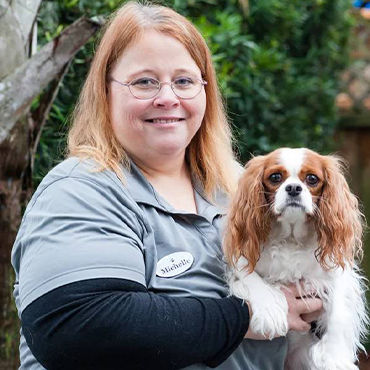 Michelle
Groomer
Michelle is originally from Austintown, OH. She moved to SC in high school. She received her Associate of Science Degree from Trident Technical School. Michelle lives in Goose Creek with her husband and four children. After working in the school district for several years, she became a stay-at-home mom for her four children. Now that the children are growing, Michelle enjoys indulging in her passion for animals as a groomer at Dog Tired. Since 2013, she has loved working with the dogs and alongside like-minded animal lovers at Dog Tired.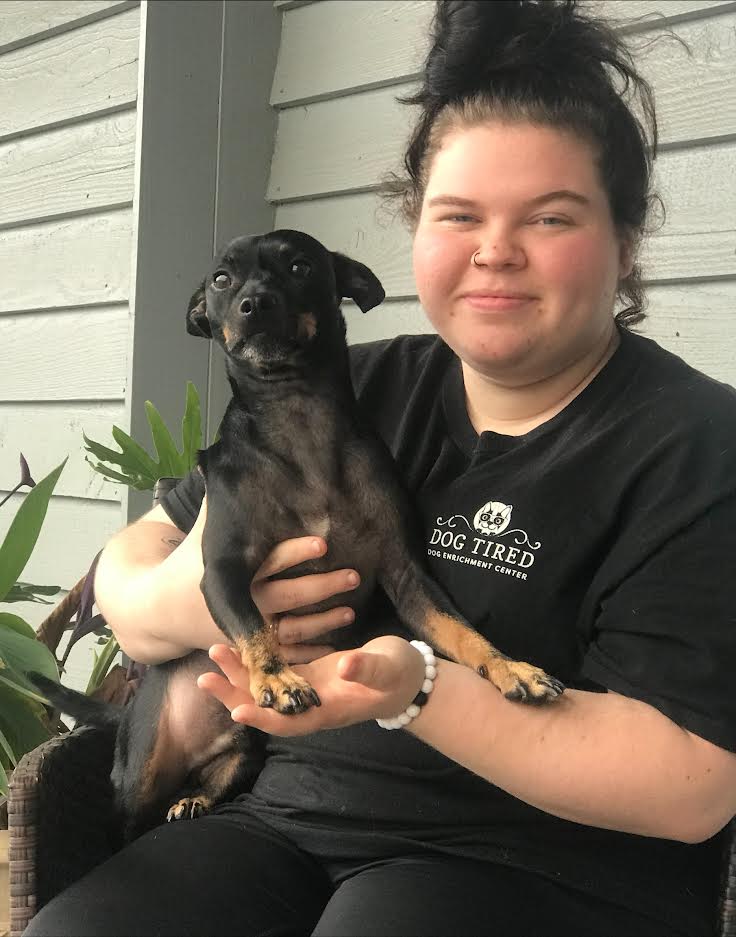 Baylee
Back Of House Lead
Baylee joined the Dog-Tired Team in February of 2021 and works at our James Island location. Her goals include opening her own rescue center for all animals. In her free time, she enjoys drawing and painting. Working with animals all her life, Baylee grew up with all kinds of dogs, and cats along the way and she especially loved her bearded dragon. Currently, she owns a rescue Pit Bull named Pogue and plans on having more down the line!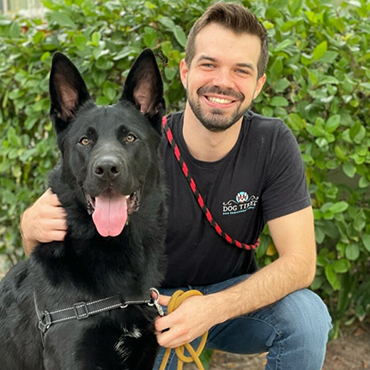 Griffin
Dog Trainer / Back of House Lead
Griffin has been working at Dog Tired for over a year. Since starting, he has worked as a Pet Tech, Back of House Lead, Enrichment Specialist, and is currently the Dog Trainer at John's Island. In his spare time, Griffin enjoys playing Ultimate Frisbee and games with his friends. He hopes to be an accomplished trainer in his profession and with his own dog.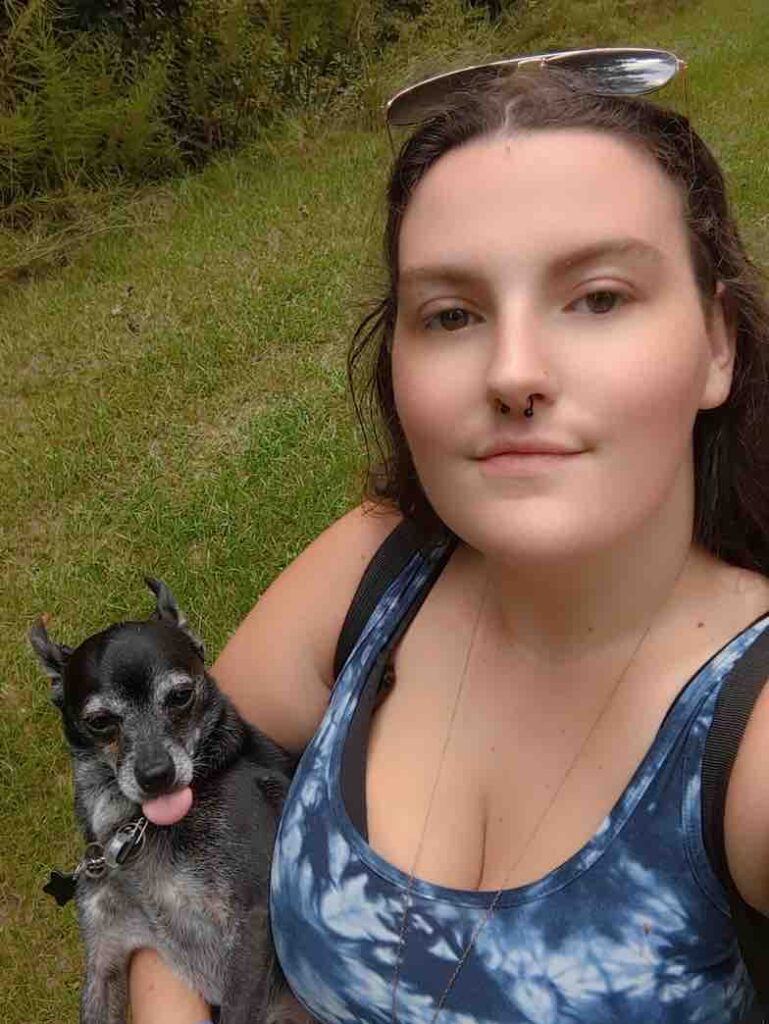 Olivia
Assistant Manager, Camp Road Location
Olivia has worked for Dog Tired since 2021 and is a Back of House Lead. She started working at Dog Tired because she adores dogs and wanted a fun working experience! She loves each and every dog that she has met so far, and she is so excited to meet more! She says that this job has taught her so much and she can't wait to learn more.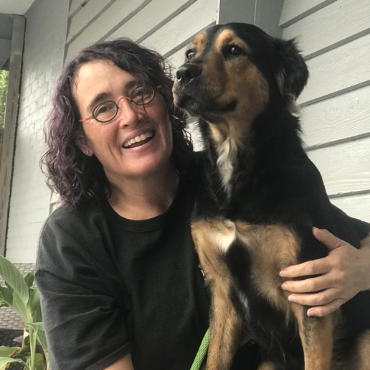 Anna
Back of House Lead
Anna is one of our Back of House Leads. She has been with Dog Tired since September 2020 and could not love it more! Anna is from New Hampshire originally, but has lived in Maine and Florida as well. She moved to Charleston in 2007 for work and to be around her family. When she's not hanging out with our Dog Tired dogs, Anna enjoys bead-weaving and photography. She has one dog at home named Madigan. Anna loves getting to know our clients and their furbabies, so please feel free to introduce yourself!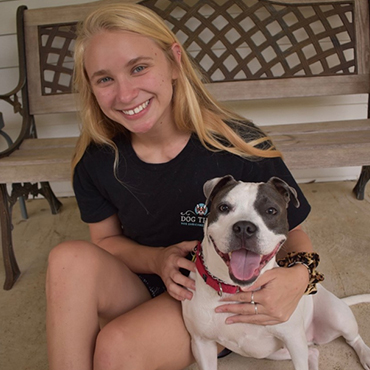 Halle
Back of House Lead
Halle is a native of James Island, SC. She began working here right after graduating high school in 2021 and is here to learn more about the veterinary field. She loves hanging out with all the dogs and taking fun pictures for the clients to see. When she's not working, she's spending time with her dog, Ava, and three guinea pigs; Pedro, Clarke, and Oreo. She hopes to move to New Orleans to attend Loyola University for Veterinary Medicine in a few years.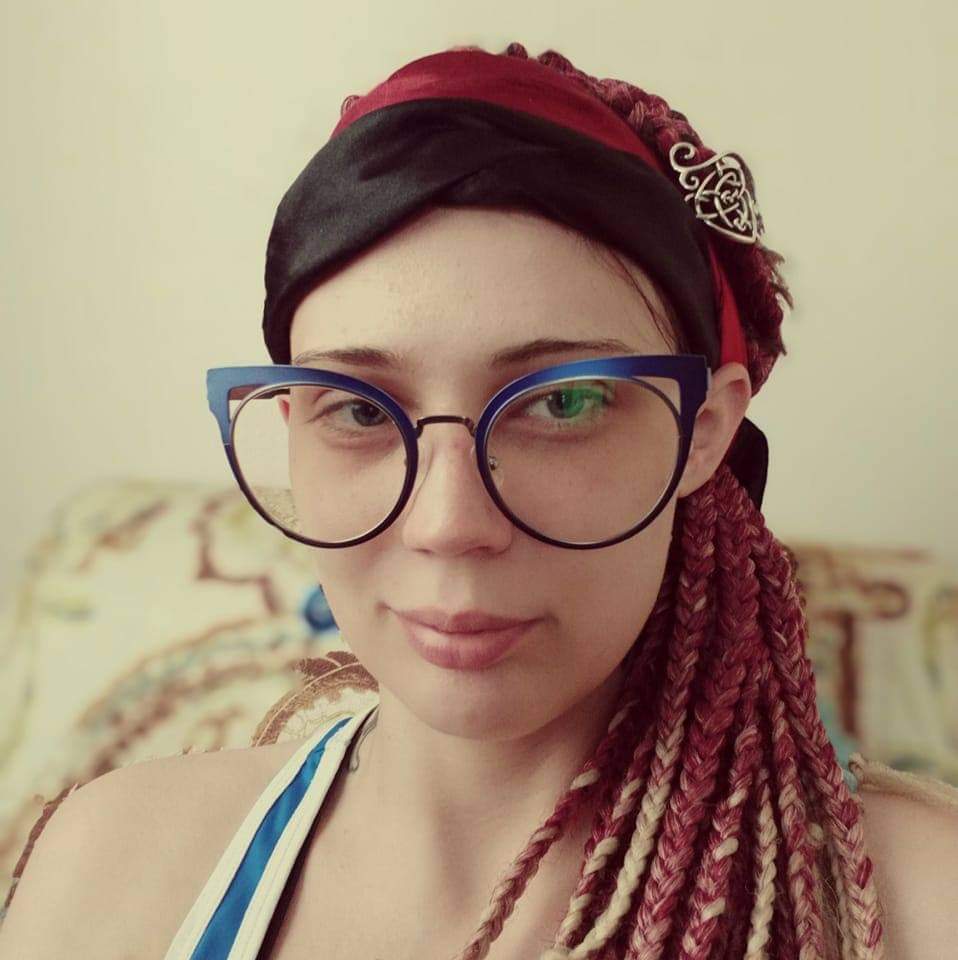 Noel
Back of House Lead- Camp Road
Noel came here from North Carolina as a certified veterinary assistant. She chose to work at Dog Tired because of the learning opportunities that come with it. In her spare time, she enjoys drawing, writing, playing cello, and practicing the digeridoo. She also has two adorable pups named Moose and Oliver.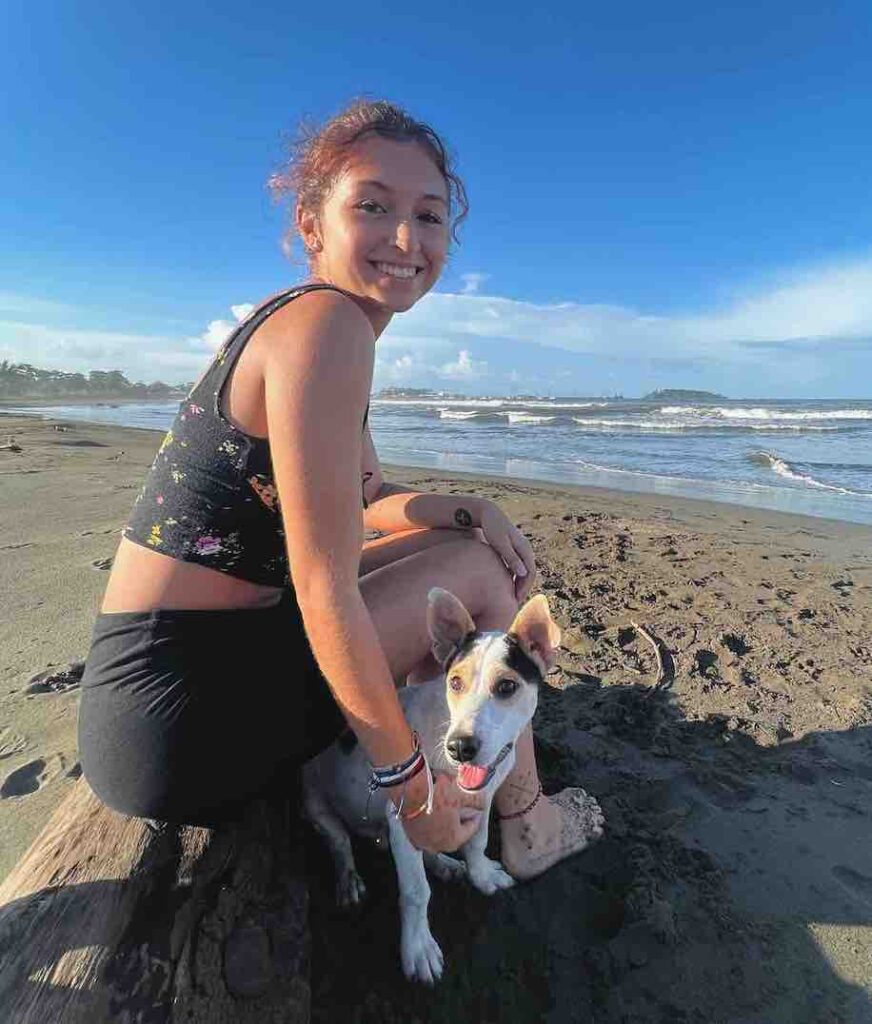 April
Back of House Lead
Originally from Charlotte, NC, April has two cats named May and June who she loves spending time with. Her hobbies include going to the beach and hanging out with friends and family when she is not spoiling your pets at Dog Tired.
Dashon
Pet Tech- Camp Rd
Dashon was born in Norfolk Virginia where he moved to Charleston at the age of 3. Dashon loves to fish, hang with friends, and make music in his spare time. He loves working at Dog Tired because he has a love for animals and wants to learn how to be a dog trainer someday. He also loves the work environment at Dog Tired and looks forward to learning new things along the way.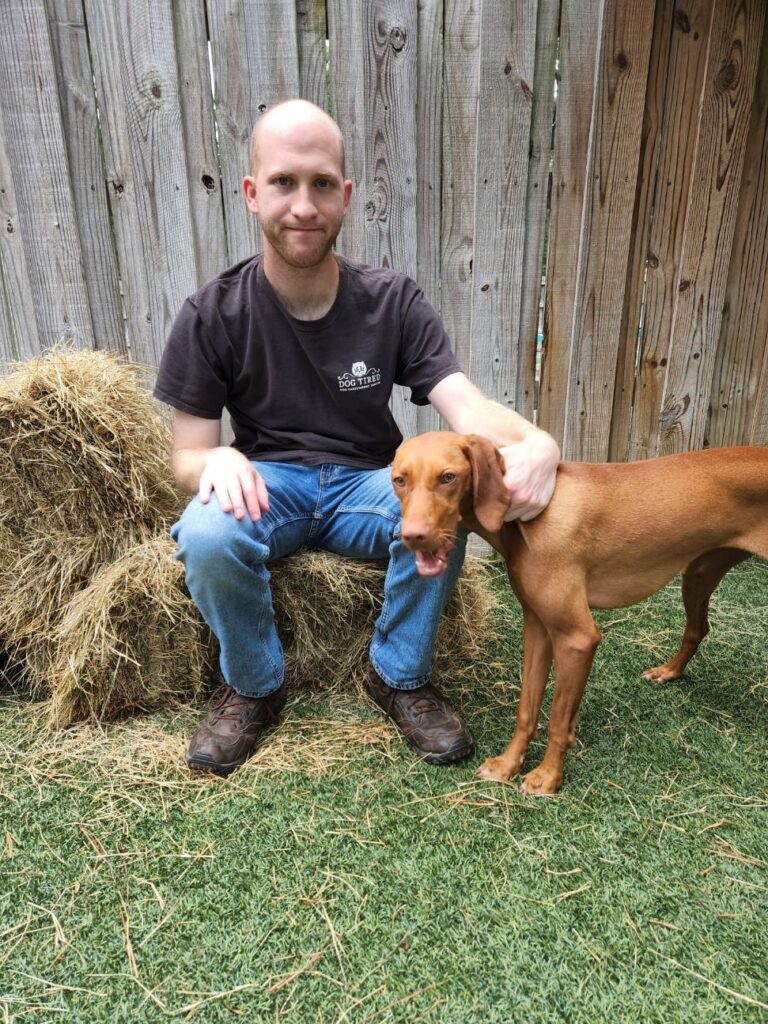 Matthew
Senior Pet Tech
Matthew joined the team in 2020. Matthew is originally from Summit, NJ but moved to Charleston when his parents retired. Matthew enjoys reading and gaming in his free time. He feels passionate about interacting with dogs in pet care and worked at another pet care establishment for four and a half years. Matthew is committed to providing professional quality individualized pet care to all of the pets of Dog Tired. If you ever see Matthew around, please don't hesitate to reach out to introduce yourself to him, as he loves getting to know the Dog Tired family!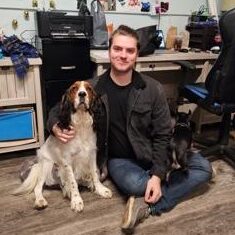 Nick
Reception - Camp Road
Nick is a full-time student and part-time digital artist. He loves working at Dog Tired while supporting himself through his degree. Eventually he plans to transfer and pursue higher education. Like almost every man, he enjoys music, food, and dogs. He has a great sense of humor, and you can catch him at the front desk any time if you just need a laugh!
Emily
Reception- Camp Road
First and foremost, Emily is a fun, loving, and busy mom of two wonderful sons. She made Charleston her home 12 years ago and has grown to love water life. Fishing, crabbing, and even oystering, you name it, she loves it! When she isn't spoiling your fur babies at Dog Tired, she loves cooking, traveling, and trying new restaurants. She also has several pets of her own (Major, Bruce, Marley, Macks, and Tazz) that she enjoys spending quality with. She is an identical twin and absolutely adores animals.
Virginia
Pet Tech
Virginia is an army brat that was raised in Germany. She joined the air force at 19 and served for 10 years. She has one son, Billy and two grandchildren Brooklynn and Quinn, who live in Massachusetts. She is semi-retired and loves working at Dog Tired.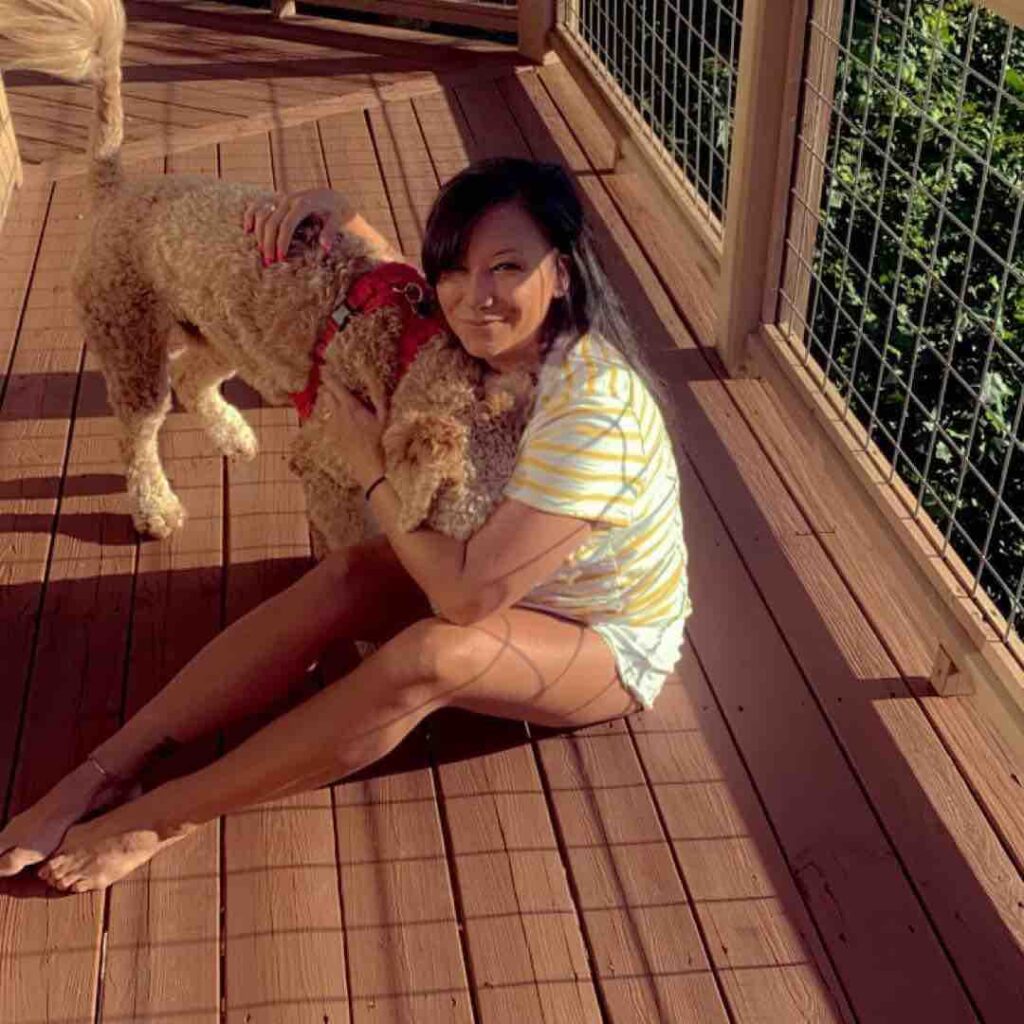 Kali
Pet Tech – Camp Rd
Kali is a Navy veteran with two children at home. She has loved animals as long as she can remember and enjoys working at Dog Tired to make extra money. When she isn't working, she loves spending time with her kids and her two dogs, Storm and Bonnie. She also rescues cats, enjoys trivia, and loves to go shopping in her spare time.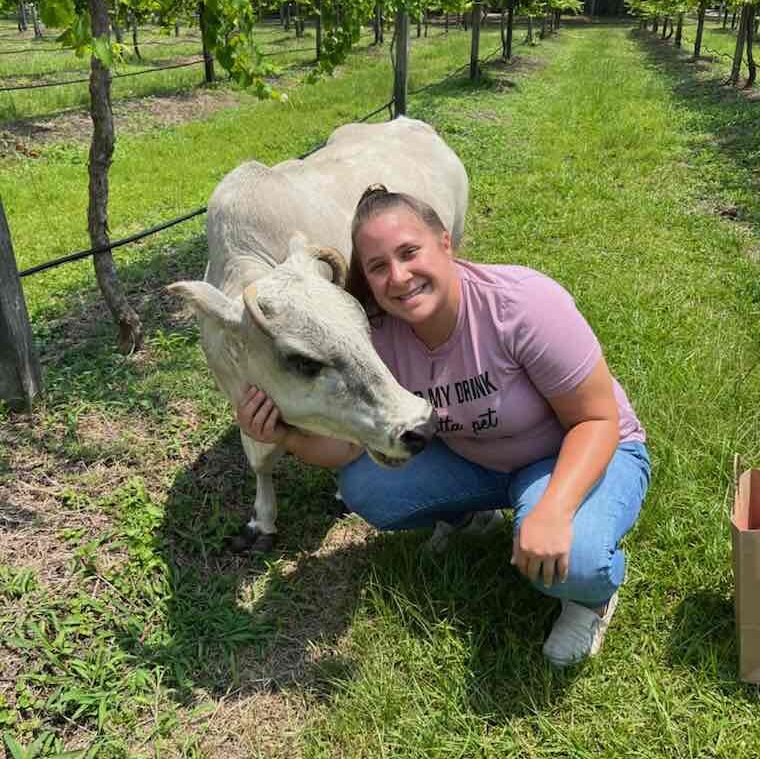 Libby
Pet Tech - Camp Road Location
Libby is 21 years old and eventually plans to become a large animal vet. She puts her best into everything she does at Dog Tired while shining with her bubbly personality. When she isn't there, you can probably catch her hanging out at home with her significant other and dog Lexi, or you might spot her out shopping at Bath and Body Works!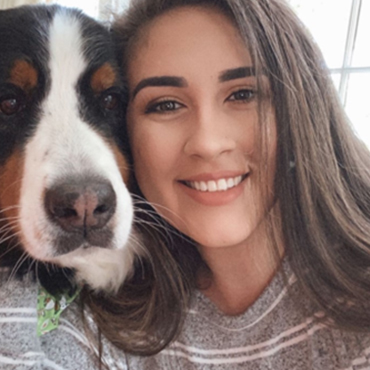 Allyson
Senior Pet Sitter
Allyson joined the dog tired team in 2017. You may know her from the Johns island location working as a pet tech and assistant manager. She took a hiautus from Dog Tired to pursue a career in veterinary medicine, where she has been working for the last 3 years. She couldn't stay away from our wonderful clients and re-joined the pet sitting team. When Allyson isn't working, she is spending time with her son and 5 dogs, reading, cooking or catching up on the latest true crime series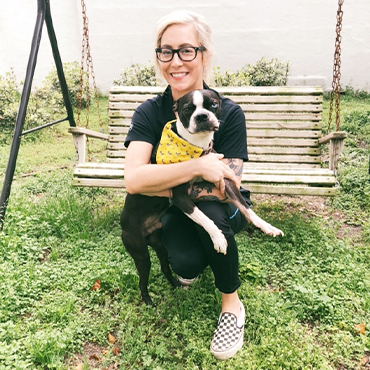 Candace
Senior Pet Sitter
Welcome one of our newest Dog Tired Team Member, Candace! She received her Bachelors of Science from The College of Charleston and her Masters in Library and Information Science from the University of South Carolina. She does it all and works part time with Dog Tired as a walker, pet sitter, and wedding nanny. She has two adopted fur babies of her own that keep her company. We love having Candace a part of the Dog Tired Team!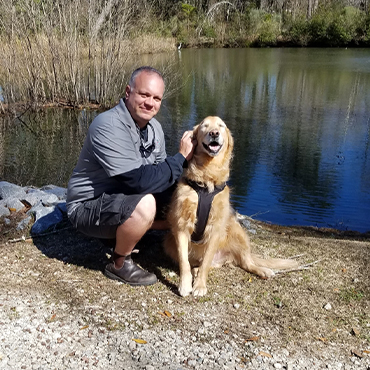 Mike
Senior Pet Sitter
Have you met Mike, one of our pet sitters? Mike moved to Charleston in 1996 to attend The Citadel. After graduating, he took a job with the Mt. Pleasant Police Department. Mike and his wife welcomed triplet daughters in 2007. In his very limited spare time, Mike enjoys metal detecting, duck hunting, camping & hiking and listening to podcasts. Your pet is in great hands with Mike!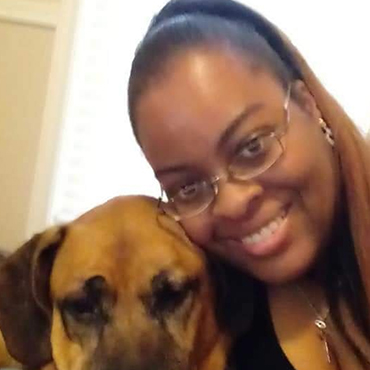 Aretha
Pet Sitter
Meet Aretha, a lady who loves her job! When Aretha isn't taking care and having fun with her senior citizen doggie; she's taking care of your precious fur babies. She has pet sat for cats, dogs, snakes, and guinea pigs thus far and can't wait to pet sit some chickens and horses! In her spare time she spends time with her mom and happily plans her wedding with her fiancé.
Beth
Groomer
Beth comes to us originally from Indiana and moved to Charleston, SC, in the summer of 2009. She has spent most of her life around and caring for all animals, big and small. She began her pet care career as a pet care specialist and then moved up to an animal behavioralist for serval years before trying her hand out at grooming, and now it is her passion! She loves making animals feel and look amazing. She has six fur babies: two dogs - Charley and Coco and four cats - Oreo, Hollie, Dingbat, and Mewtu. When she isn't in the shop making pups look fabulous, she likes spending time with friends and family making everlasting memories.