Meet Our Team
Gray Moore and her highly trained team are proudly leading the way towards a higher standard in the pet care industry. They continually strive to meet the rigorous standards set by leading organizations in the industry including The Dog Gurus, IBPSA, and the PACCC. All staff members undergo an extensive 16-week training course on dog body language provided by The Dog Gurus. In addition, all staff are or will become, certified in emergency care for dogs and cats.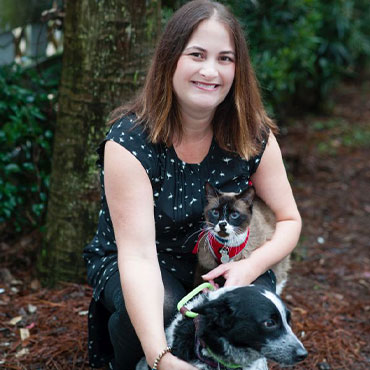 Gray Moore
President
Gray Moore is President and Founder of Dog Tired Pet Services and also one of the first Certified Professional Animal Care Managers (CPACM). She has lived in the Charleston SC area for over 14 years. Her entire life has revolved around animals. She has an extensive list of volunteer positions helping animals including President of the 4-H Club, volunteering at a zoo, caring for orphaned and injured wildlife, training thoroughbred horses, breeding and showing Jack Russell Terriers, and volunteering for animal shelters. She currently has a cattle dog mix, Tilly Munster, a snowshoe Siamese cat, Folly, and a fish tank full of angel fish.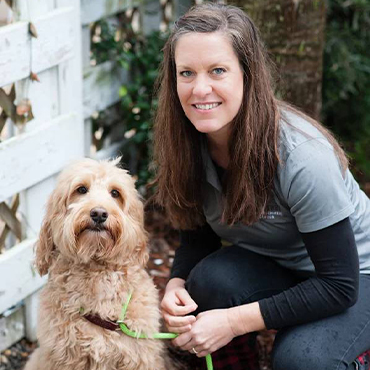 Kate
Pet Sitting Manager & Daycare/Boarding Manager
Kate works in all aspects of the business. Born and raised in NY, she moved south to attend the College of Charleston and has called Charleston home ever since. Her love and understanding for dogs is a perfect fit at Dog Tired. Kate is certified by the American Red Cross in Dog and Cat Emergency Care. Her furbabies include a pit mix Quincy, a hound mix Emmie Lou, and two black cats Figaro and Oliver. When not busy at Dog Tired, Kate enjoys spending time with her kids and husband, preferably on a boat somewhere. She is also an avid USC football fan!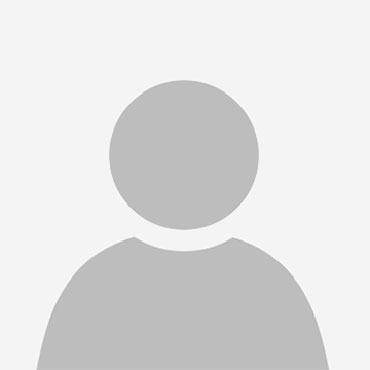 New GM Coming Soon
General Manager
Coming Soon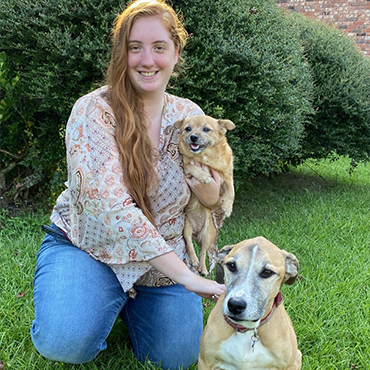 Stephanie
Assistant Manager
Stephanie is originally from Los Angeles, CA, but moved to Charleston, SC in middle school. Her lifelong passion for animals has led her to work in many different parts of the dog care field, and she loves all of the pups she meets. In her spare time, she enjoys spending time with friends and family, cooking, and playing video games.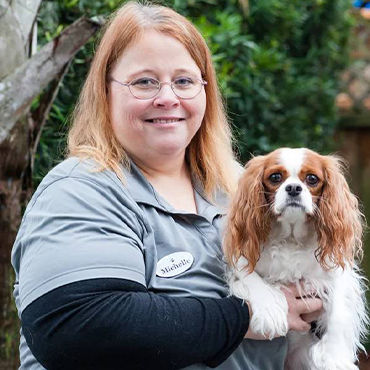 Michelle
Groomer
Michelle is originally from Austintown, OH. She moved to SC in high school. She received her Associate of Science Degree from Trident Technical School. Michelle lives in Goose Creek with her husband and four children. After working in the school district for several years, she became a stay-at-home mom for her four children. Now that the children are growing, Michelle enjoys indulging in her passion for animals as a groomer at Dog Tired. Since 2013, she has loved working with the dogs and alongside like-minded animal lovers at Dog Tired.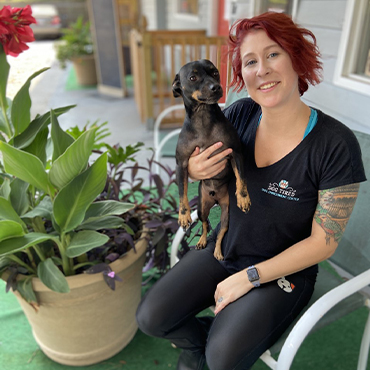 Averie
Groomer
Averie is from a small town in MA then lived in Dallas, TX and has now made Charleston her home. She has over 9 years' experience grooming as well as several years' experience in other areas of the pet care industry. Her personal pack includes 3 dogs; Chopper, Gracie, & Scooter as well as 2 cats; Calvin & Chiba. In Averie's spare time she is a foodie and enjoys trying all types of food!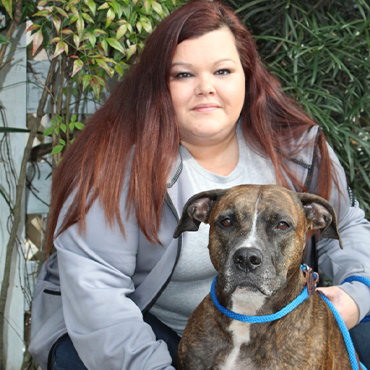 Ashley
Concierge Services
Did you know that Ashley, one of our pet techs, has a lifelong passion for French bulldogs and looks forward to the day when she can have another one! When she's not loving on all the little pups at Dog Tired, she likes to read and cook (with a glass of wine, naturally)! We love having Ashley a part of the Dog Tired Team!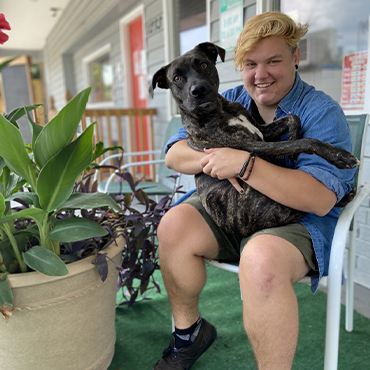 Elliot
Back of House Lead
Elliot has been working with dogs in a daycare/boarding setting since 2015. He has always had a passion for animals and caring for them. He cares for every dog as if they were his own, because he believes every dog deserves to be loved! It is his dream to one day train therapy dogs. He loves the work that they do and thinks it is so important!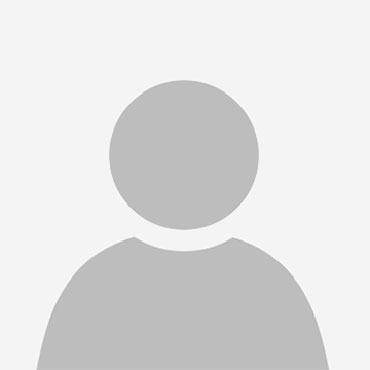 Sully
Administrative Assistant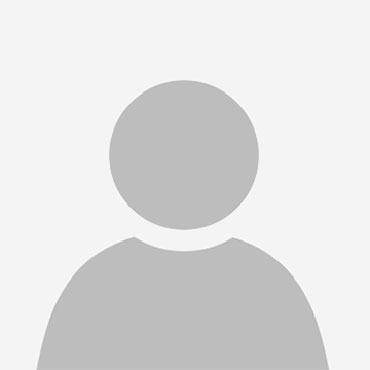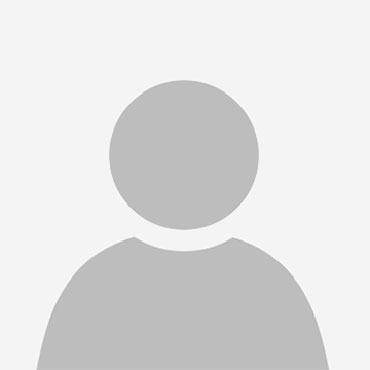 Matthew
Pet Tech
Matthew joined the team in 2020. Matthew is originally from Summit, NJ but moved to Charleston when his parents retired. Matthew enjoys reading and gaming in his free time. He feels passionate about interacting with dogs in pet care and worked at another pet care establishment for four and a half years. Matthew is committed to providing professional quality individualized pet care to all of the pets of Dog Tired. If you ever see Matthew around, please don't hesitate to reach out to introduce yourself to him, as he loves getting to know the Dog Tired family!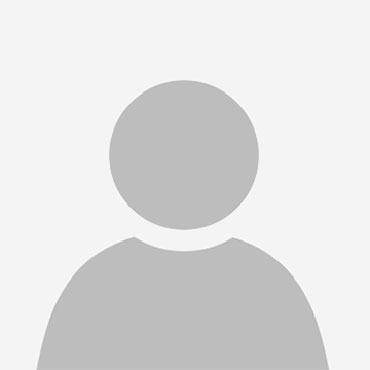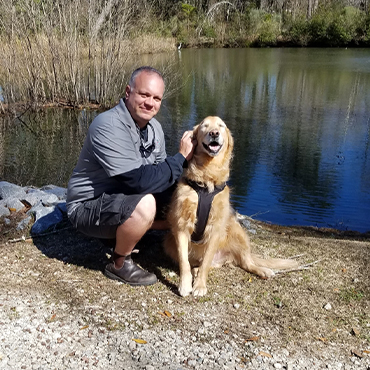 Mike
Senior Pet Sitter
Have you met Mike, one of our pet sitters? Mike moved to Charleston in 1996 to attend The Citadel. After graduating, he took a job with the Mt. Pleasant Police Department. Mike and his wife welcomed triplet daughters in 2007. In his very limited spare time, Mike enjoys metal detecting, duck hunting, camping & hiking and listening to podcasts. Your pet is in great hands with Mike!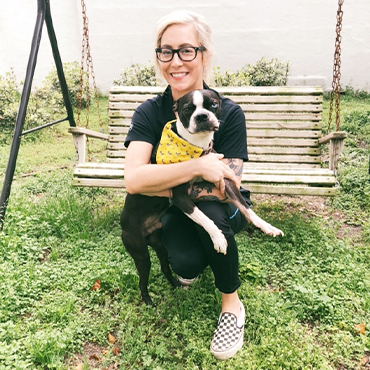 Candace
Senior Pet Sitter
Welcome one of our newest Dog Tired Team Member, Candace! She received her Bachelors of Science from The College of Charleston and her Masters in Library and Information Science from the University of South Carolina. She does it all and works part time with Dog Tired as a walker, pet sitter, and wedding nanny. She has two adopted fur babies of her own that keep her company. We love having Candace a part of the Dog Tired Team!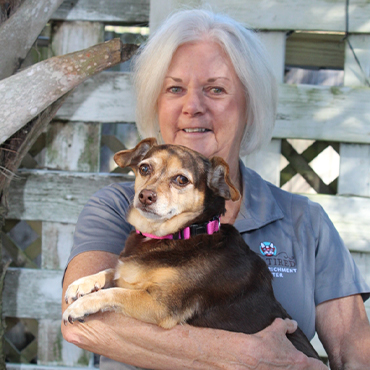 Kathy
Senior Pet Sitter
Kathy joined the Dog Tired team of pet sitters in 2018 after retiring from the education field. She holds a Bachelor of Science in Education Degree from Salem State College in MA. Kathy has never been without dogs and cats in her life. She is a caring, conscientious, responsible and loving pet parent to her senior dog, Jenny, and her senior cat, Dillon. Kathy describes working for Dog Tired as the best job she has ever held because it is such a happy place, and the fur babies are awesome!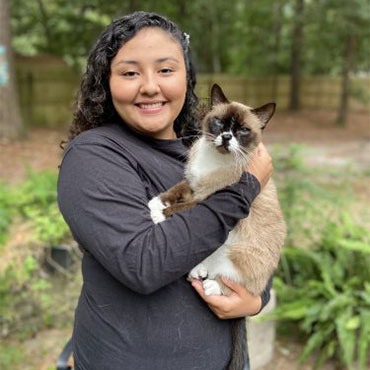 Emily
Pet Sitter
Emily was born in Charleston and grew up on John's Island. She went to Trident Technical college and is now a licensed esthetician. Helping people feel good about their skin and themselves is one of her goals. She works part-time as a pet sitter. Dog Tired has allowed her to pursue her childhood passion, working with animals. Loving and caring for other people's pets brings her great joy.