Enrichment Daycare 2.0
At Dog Tired, our goal is to create a fun and safe environment where dogs come to play and learn and where pet parents can confidently place their trust in our standards of care. We are an Enrichment Center, not just a standard doggie daycare!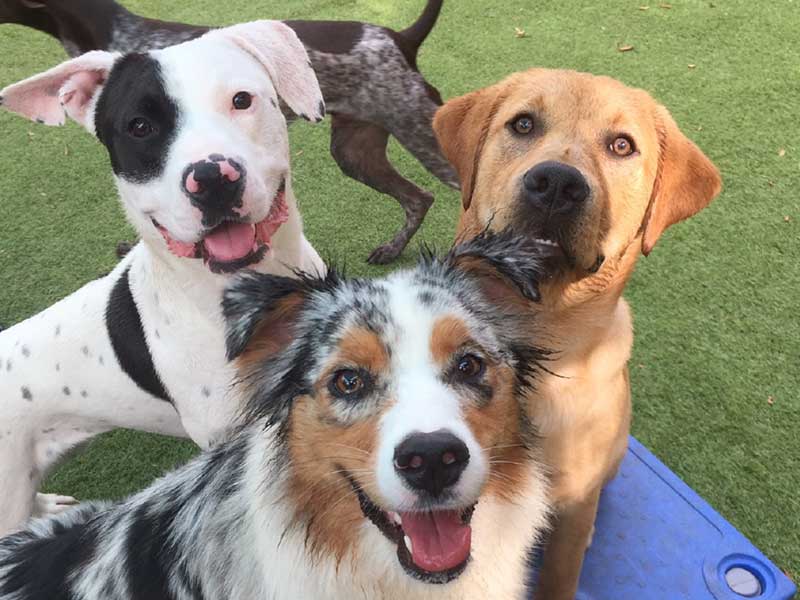 Why Choose Dog Tired for Doggie Daycare?
We've designed our Enrichment Daycare 2.0 program to benefit both the physical and emotional needs of your dog. Your dog will play, learn, become more confident, and experience mental exercise with some real life skills that we feel are important to reduce stress and add balance to their everyday lives.
Learn New Skills: We want your dog to learn something every day. We will encourage walking on different surfaces, exposure to small doggy pools, patience while waiting at entry ways and doors, appropriate play styles between dogs, tricks and reinforcing obedience.
Playtime: Both locations offer large outdoor play areas. There is puppy playground equipment for jumping, tunneling, and climbing, pet friendly turf, and even a beach area at our John's Island location.
Canine Fitness: FitPaws, our Canine Fitness Program, focuses on the dog's balancing skills by using their core for balance, strength, and confidence.
Rest & Relaxation: Dogs have nap times throughout the day so they can get a break from extensive activity and rejuvenate for the afternoon play and enrichment sessions.
Love & Care: Your pet will be supervised and well cared for by our dedicated and trained daycare staff. If you are an Enrichment Daycare Member, your dog will enjoy a smaller play group of up to 10 dogs. We throw in extra love and cuddles free of charge.
---
How Your Dog Can Benefit from Doggie Daycare
Whether your dog is full of energy or a couch potato, a wallflower or a social butterfly, we take the time to ensure your dog will be happy and thrive in our daycare program. We conduct an assessment of each new dog to ensure a great fit.
Puppies
Puppies that don't have enough exercise can become bored and destructive. Your puppy will benefit from physical and mental stimulation while teaching them new games, tricks and behaviors while releasing their puppy energy. For puppies that are too young for our daycare program, please inquire about our In-Home Puppy Packages for potty breaks and walks.
Senior Dogs
We can assist keeping your senior dog in tip-top shape with low impact workouts. As dogs age, they tend to lose their balance and muscle, so it's important to keep them active a few times a week to maintain a happy and healthy senior pet. They will also enjoy nosework games and puzzles with little to no physical impact to improve their brain activity and alertness. It gives them something FUN to do other than sleep.
Shy Dogs
Smaller groups allow for the "wallflowers" to come out of their shells. Dogs that are usually shy and that just "hangout" will actually play more in a less overwhelming situation.
Athletes & Couch Potatoes
Whether your dog is a couch potato during the week and active on the weekends, this program will help maintain a healthy weight, stronger core, as well as less susceptible to injuries. The brainwork activities will keep their minds sharp with reinforcing boundaries and building confidence while learning some new tricks!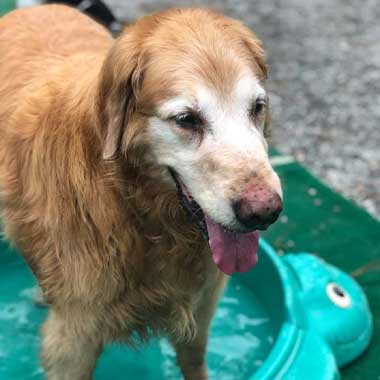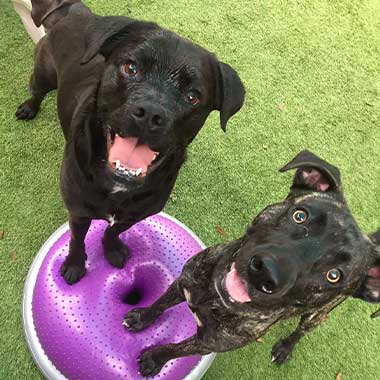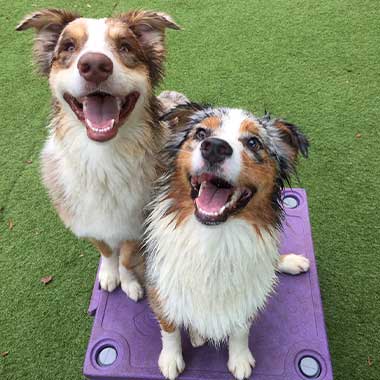 Become a Daycare Client
Applicants will be accepted on a first come first serve basis. After registering online, please send us proof of vaccinations and call our office to schedule your dog's assessment. After the initial assessment, you will be able to schedule online thereafter. If you are from out of town, please call our office for availability.
The assessment day gives us a chance to meet and monitor your dog to see if they enjoy the daycare and enrichment environment. Your dog will participate in multiple activities that the team has planned for the day. They will actually be using their brains with games and puzzles, agility, or enjoying a nice relaxing trail walk. You will also receive an emailed report card of how their first day assessment went.
Register OnlineView FAQ & Health/Vaccination Requirements
Daycare Rates
Reservations are required and Enrichment Daycare is open to members only. Due to the demand of our daycare program and limited space, no refunds or credits for missed daycare will be provided.
1st Day Assessment $41
James Island & Johns Island Enrichment Daycare 2.0 $41
Monthly Membership Required. Includes Enrichment Curriculum, Daily Photos & Daily Report Card.
Monthly Membership Fee
$23/month
---
Tours
All guests entering for a tour must use hand sanitizer and wear a mask at all times while on the premises. Tours are preferred Monday-Friday between 10am and 2pm. Appointments are preferred during this time